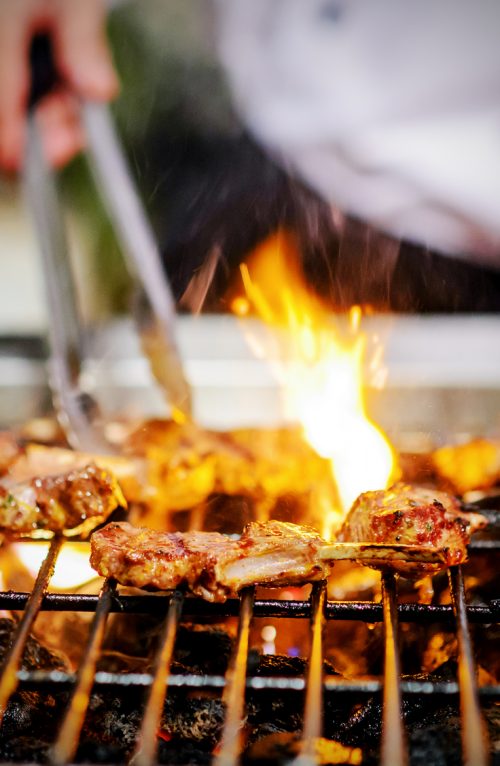 Summer is winding down, but in many back yards, barbecue season is never-ending. If you've been using your grill a lot this summer, it may be time for a deep-clean. Get rid of that sticky buildup on grates that can cause food to cook unevenly, and clean the exterior to remove flash rust spots and grime.
What to use:
WHERE TO BUY
Ready to freshen up your grill? Let's get started!
Gather Your Supplies
To deep-clean your grill, you'll need:
A grill brush or wad of aluminum foil

Newspaper or a plastic drop cloth

A nylon brush or scrub pad

Household gloves (recommended)

Bar Keepers Friend (read on to learn which products are best for your grill)
Cleaning the Grates
Fire-up your grill and let the heat do some of the work for you – it'll soften greasy food debris on stainless steel or enamel-coated cast iron grates. After a few minutes, turn off the grill and allow grates to cool slightly. Use a grill brush or a wad of aluminum foil to scrape the grates. 
Once the grates are cool to the touch, place them on a dropcloth on the ground, moisten them, and sprinkle BKF Cleanser across the surface. Put on household gloves and clean the grates with a nylon brush or damp scrub pad. Rinse thoroughly (a "jet" setting on a garden hose works well for this task), and dry thoroughly. After replacing the grates, turn on the grill to burn-off any residue. 
Cleaning the Exterior  
Stainless steel is durable, but it's not indestructible – without regular cleaning, it may rust. Use BKF MORE Spray + Foam to clean your grill's exterior, and then put on the finishing touch with our new Stainless Steel Cleaner and Polish in a convenient trigger-spray bottle.
Whichever BKF product you use to clean your grill exterior, remember to wipe lightly in the direction of the steel grain with a damp sponge or nylon scrub pad. Rinse thoroughly within a minute of application, and wipe dry. Then, should you desire, it's ready to add a sparkling gloss with new Stainless Steel Cleaner and Polish.
As demonstrated by popular blogger Katelyn Fagan, Bar Keepers Friend Stainless Steel Cleaner and Polish removes moderate grease and grime and restores a beautiful shine to stainless steel (both inside the home and outside). This new product is specially formulated to clean both coated and uncoated stainless steel without damaging the surface.
Spot Test   
Bar Keepers Friend MORE Spray + Foam is safe to use on most stainless steel grill exteriors, but always test it on a small, inconspicuous area first. You may also use Bar Keepers Friend Cleanser, Soft Cleanser, or Cookware Cleanser on heavily soiled exteriors – spot test any product you use. 
Share Your Story
We always welcome Before-and-After photos – if you want to showcase your grill-cleaning efforts, you can upload your photos here.