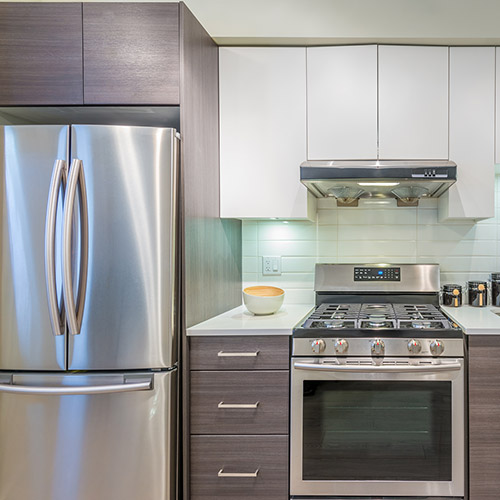 Stainless steel appliances are durable, rust-resistant, and stylish, which is why they're so popular with homeowners. The downside of these appliances, however, is that they seem to show every fingerprint and smudge – if you don't clean them regularly, that shiny finish can become dull quickly.
What to use:
WHERE TO BUY
New from the Bar Keepers Friend growing family of products, our Stainless Steel Cleaner & Polish – in a convenient trigger-spray bottle – is specially formulated to clean stainless steel appliances without damaging the thin protective surface layer. Cleans and polishes in one easy step! It also reduces fingerprinting, slows oily buildup, and masks most blemishes.
Easy as 1-2-3
To remove fingerprints, smudges, spills and oily grime from stainless steel surfaces, just spray BKF Stainless Steel Cleaner & Polish on the surface, wipe in the direction of the grain with a soft cloth, then buff the surface to a brilliant shine using the dry side of the cloth.
For heavily soiled surfaces, rub with more pressure & a microfiber cloth (in the same direction as the grain) before wiping away. Buff with the dry side of cloth or paper towel. Repeat if necessary.
Multiple Uses Throughout the Home
BKF's stainless steel cleaner works wonders on appliances, and it is useful for other cleaning tasks. You can use it to clean stainless steel fixtures, such as towel rods and drawer pulls, sinks and faucets, tools, and more.
Use as Directed
This product is for coated and uncoated stainless steel only (to clean bronze, copper, or brass, use Bar Keepers Friend Soft Cleanser). When spraying this product, if any spray contacts other surfaces, such as painted cabinets or granite countertops, wipe up the overspray with a damp cloth.
Protect Your Investment
Stainless steel appliances aren't inexpensive – and they aren't truly "stainless." Food oils and everyday grime can accumulate on the surface and eventually cause corrosion. Cleaning appliances regularly helps preserve the finish for a long-lasting shine.