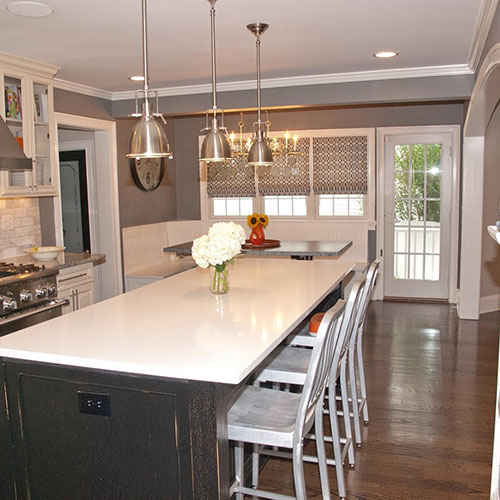 📸 credit:  meaghanbmurphy
Natural stone countertops are resilient, but they're not indestructible. Using the wrong cleaning products on natural stone can cause scratches or etching (dull spots). To preserve natural stone's beauty, you need a pH-balanced cleaner that contains no harsh chemicals. Take a look at the following tips for keeping your countertop in great condition.
What to use:
WHERE TO BUY
Protect Countertops from Damaging Liquids and High Heat
Coffee, red wines, certain types of oils, and acidic fluids such as vinegar or soft drinks can stain or damage natural stone. Wipe away spills immediately. Don't store or set bottled cooking oil on the counter (if you need oil nearby when cooking, set the bottle on an inexpensive coaster).
Some countertops – soapstone, for example – tolerate heat well, but other types of natural stone might crack if exposed to high heat. Avoid setting hot cookware directly on countertops, and place a silicone mat beneath your coffee maker to protect the counter from heat and coffee spills.
Clean Regularly
Natural stone is porous if not sealed, and grease and grime can penetrate the surface if it's not cleaned regularly. Wipe the countertop daily with a damp microfiber cloth. You may need to use a cleaner to remove stains and grime. Do not use vinegar, bleach, ammonia, any cleanser that contains orange or lemon oil, scouring powder, or liquid bathroom cleaner – all of these products can harm natural stone.
Bar Keepers Friend new Granite & Stone Cleaner & Polish is specially formulated for use on smooth, polished stone, including granite, marble, and quartz. Its pH-balanced formula won't scratch or mar stone finishes, and it's gentle enough to use every day.
How to Use BKF Granite & Stone Cleaner & Polish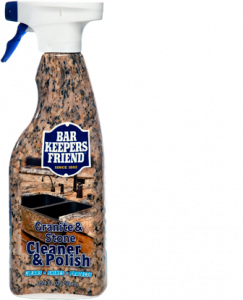 Although Bar Keepers Friend Granite & Stone Cleaner & Polish is safe to use on most natural stone, always test it on a small inconspicuous part of your countertop before cleaning the entire surface.
Clear the countertop and wipe to remove loose debris. Spray product across the surface; allow cleaner to stand for up to one minute if surface has moderate to heavier soils, then use a soft dry towel to wipe away cleaner in a circular motion. For tougher cleaning, use a non-abrasive sponge to lightly agitate the soils on the surface before wiping. Finish with a clean, microfiber cloth or paper towel for a streak-free, beautiful shine.
A Multipurpose Stone Cleaner
Bar Keepers Friend Granite & Stone Cleaner & Polish isn't just for granite, marble or quartz countertops. You can use it on bathroom vanities, sealed stone tile and backsplashes, polished stone mantels and fireplace surrounds, and on sealed stone lawn ornaments.