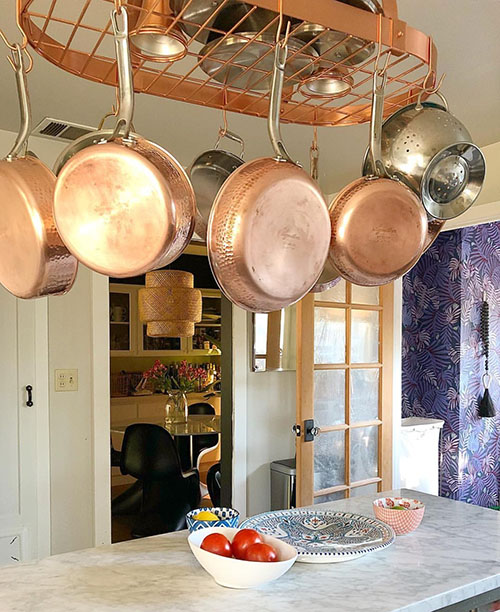 📸 credit:  sgardnerstyle on Instagram
sgstyleblog blog
There's nothing like polished copper to make a kitchen look warm and inviting. If you've neglected your copperware, this is the perfect time to pay it some attention. The great thing about using Bar Keepers Friend to clean your copper is that it doesn't even take that much effort. Our cleansers start working right away to remove the tarnish from your copper pots and pans. Soon, you'll have your copperware looking so good you'll want it on display like Instagrammer and style blogger Shavonda Gardner (sdgardnerstyle) does in her gorgeous bungalow.
What to use:
WHERE TO BUY
Copper cookware is known for its quality and durability, and that's why it's often used in professional kitchens. Unlike iron or steel, copper doesn't rust, but it can become discolored over time. Knowing the best way to clean copper cookware will keep your collection in showcase shape.
Copper can – but rarely does – contaminate foods or liquids that have a pH level lower than 6. Most copper cookware is lined with a protective layer of tin or stainless steel, so copper never comes into contact with food. When you have clean-lined copper cookware, you'll want a cleanser that's safe for both the copper surface and the lining. Some people use a homemade salt scrub to clean copper, but salt can cause pitting in stainless steel. Bar Keepers Friend Cleanser is safe for most surfaces.
Do a Spot Test
Bar Keepers Friend shouldn't damage quality copper, but it's always a good idea to test the cleanser on a small area first (because some products marketed as copperware may be a mix of metals). Wet a spot on the copperware and add a slight amount of Bar Keepers Friend. Use a wet sponge to lightly cleanse the area, then rinse, and check for any dullness or scratches.
Cleaning Copper Pots and Pans
To clean your copper pots and pans, wet items first, apply Bar Keepers Friend Cleanser, and use a wet sponge to evenly distribute the cleanser. Wait up to one minute before gently scrubbing the surface with the wet sponge, then rinse the item thoroughly. If stains are still visible, repeat the process.
How to Clean Copper Utensils
Copper spatulas, strainers, and whisks have nooks and crannies that may be tough to get to with just a wet sponge. An old toothbrush is the perfect tool for this job. Wet the kitchen utensil, apply Bar Keepers Friend Cleanser, and use the toothbrush to work the cleanser into hard-to-reach parts. Clean the rest of the utensil with a damp sponge, then thoroughly rinse – if your sink has a sprayer, use that to rinse away the cleanser.
Other Copper Items
You can use Bar Keepers Friend to clean copper pot racks, Moscow Mule mugs, cocktail shakers, and all of the other copperware in your kitchen or bar area. Just make sure to do a spot-test on all items first. After rinsing, dry items thoroughly with a soft cloth to bring out the shine!