If you've spent any time cooking on the stove, you've likely also spent time scrubbing over the sink. No matter what your talents in the kitchen, we've all been there — trying to figure out how to clean a burnt pan. A quick distraction, high heat, or fats and sugars can create an icky, crusty mess of your favorite pots and pans. Burned cookware looks unsightly, does not cook evenly, and can even be a health hazard. The good news is that Bar Keepers Friend makes cleaning black, burned pots easy. How easy, you ask? Download our guide and find out why All-Clad and Calaphon recommend Bar Keepers Friend to keep cookware shiny.
---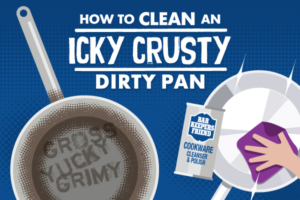 Download the BKF How to Clean a Burnt Pan Guide
Download our easy-to-follow guide for step-by-step instructions on how to use Bar Keepers Friend to clean burnt-on messes and leave your pots looking like new.
---
BKF: Real Problems, Real Solutions
To Shine is Divine
Sometimes, sad stories have a happy ending. Bar Keepers Friend salvaged this customer's burnt pan after her hubby got carried away in the kitchen.