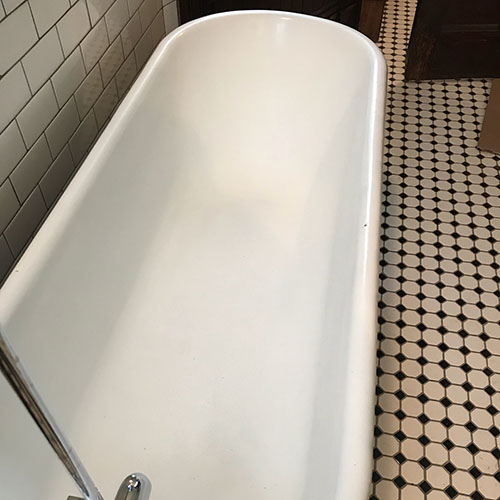 📸 credit:  brickcityapartments
Don't hide your shower or tub from guests because you're embarrassed about rust stains, mildewy grout, or marred surfaces. Bar Keepers Friend cleans porcelain, tile, fiberglass, and more. Our products have even been known to save customers from having to replace their tubs and shower tiles.
What to use:
WHERE TO BUY
Scrubbing soap scum and/or hard water deposits from a bathtub isn't how most people want to spend their weekend. If your to-do list includes "clean a dirty bathtub," you can get the job done a lot faster if you have the right cleaning supplies.
Any of the Bar Keepers Friend products listed above will power through soapy residue, rust and mildew stains, and hard water buildup. Using a wet sponge or non-scratch scrubbing pad and a dry cloth, you can have that tub looking like new in no time. You can also use Bar Keepers Friend Cleanser throughout your home.
Preparing the Area to Clean a Dirty Bathtub
While Bar Keepers Friend Cleanser is safe to use on most surfaces, including porcelain, always test it first on an inconspicuous part of the bathtub and fixtures. If your bathroom floor is polished marble or other natural stone, cover the area closest to the bathtub before you start cleaning, as the cleanser may cause etching on delicate surfaces.
Getting Started
Once you've done your spot test, you're ready to start cleaning. To make this task more manageable, clean the tub in two sections – start by wetting the whole tub, and sprinkle a small amount of Bar Keepers Friend Cleanser on the half of the tub farthest from the drain. (If the tub has stubborn stains, add a bit of water to the cleanser until it has a paste-like consistency).
Use a damp sponge to spread the cleanser evenly, then wait up to one minute before scrubbing, then rinsing, the surface so the oxalic acid in Bar Keepers Friend has time to work its magic. Repeat these steps as needed, until half of the tub is clean. You may notice when you start to clean the other half of the tub that the Bar Keepers Friend you rinsed away removed some grime on its way to the drain.
Repeat the same process to clean the rest of the tub, but use more water to create a thinner cleanser for stainless steel fixtures and the drain cover. Thoroughly rinse the tub and fixtures.
Buff to a Shine
When you're finished cleaning, use a soft, dry cloth to buff and shine your tub and fixtures.
---
BKF in Action
Seeing is believing! Check out Bar Keepers Friend in action as it cleans stuck-on dirt from this tub.